#WritingAdviceWednesday – Breaking The Mold : When Harry Met Sally
Writing Advice Wednesday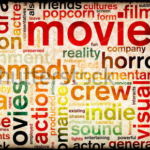 I like the video below, another excellent video essay from Lessons From The Screenplay, but my opinion differs somewhat. I am not a fan of genre.  Genre is useful for consumers and Netflix lists but not useful for writers.  Genre most often describes style, tone, and setting.  Instead, I find it more useful to look at a film's emotional playing field.
Each of the Nine Character Types books contains a precise set of tools to create one specific kind of character's emotional playing field and establish his or her driving force in a story. A character's emotional playing field defines the internal framework (structure) of the story. It is the range of action and behavior (from predatory to spiritually enlightened) that instantaneously establishes a particular type of character to an audience. A character's driving force is the combination of actions and reactions that propel the character through the story.
For example, Chinatown and Apocalypse Now would never be put on the same genre list.  But emotionally they are the same film.  In the beginning, the protagonist searches for the truth about one simple thing (Who killed Hollis Mulray. Where is Colonel Kurtz?)  Over the course of the story the protagonist finds out the truth about a much larger thing. (The corruption in the water system in Los Angeles. The moral quagmire and craziness of the war in Viet Nam.)  In the end, the protagonist finds out the truth about himself. (Not asking for help– not trusting his colleagues– results in disaster.  I could easily become the monster who was Kurtz.)
The Buddy Movie has all the same elements of a typical Romantic Comedy (without the sex).  The buddies are thrown together.  They don't like each other. By being forced together they learn from each other.  In the end, in the highest act of love between buddies, they are willing to take a bullet for each other.
The best thing about this post is how what we think of a romantic comedy is turned on its head in in When Harry Met Sally. Also, it's a wonderful excuse to revisit this enchanting film. Go and watch it tonight, especially if you've never seen it!
If you're on Pinterest, why not follow my Pinterest board full of useful writing advice? It will be updated weekly, so you can keep track if you ever need an excellent video essay, or some relevant advice to whatever problems you are facing. You can always drop me a line at etbhelp@gmail.com with the subject "Ask Laurie" and I will do my best to answer it. I might even include it in an upcoming edition of Writing Advice Wednesday!
SaveSave