Question Three
The Character's Strongest Traits
Write the answers to Question Three on the left hand point of the diamond.
Question Three: What are your strongest traits? What is your crutch in hard times? What personal traits get you through when the going gets tough? What traits do you lean on?  What do other people admire about you?
This answer is a list of the character's Strongest Traits.
The Strongest Traits are a source of false pride for the character. They offer a false sense of security. These traits never alleviate the character's Fear. They are simply a coping mechanism to attempt to keep the fear at bay or under control.
In a script we should meet the character just as this mechanism is breaking down. The character's fear is beginning to outstrip his or her ability to manage or control it. Something happens to kick this process off and the story starts.
The Character's Strongest Traits are:
– The traits the character believes are his or her salvation.
– The traits the character relies on to get out of trouble or "fix" problems caused by the Trouble Traits.
– The traits the character leans on and uses as a crutch instead of making the Leap of Faith.
– The traits the character has to a fault.
– The traits the character must surrender.
A character's greatest strengths are always his or her greatest weaknesses.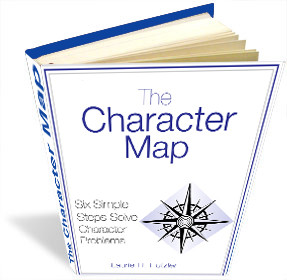 The ways the character tries to appease or compensate for the fear only feeds the fear and makes it grow stronger and more powerful.  When the character surrenders the Strongest Traits they don't just disappear. They simply operate more appropriately in the background. The character won't cling to these traits as a crutch to try to fend off or deflect the fear. Instead, he or she will turn and face the full force of the fear head-on.
$29.95Add to cart