Overview
Internal Conflict
Although all characters struggle with external events and obstacles, the deepest conflicts are always within the character. A Character Map will help you chart the emotional tensions deep inside the character and how those tensions lead to his or her transformation. Powerful screenwriting creates powerful internal conflict for the script's characters.
At the heart of any character's inner conflict is change or transformation. Someone or something provokes some kind of shift or change in the character. The character discovers something new or begins to think, feel, speak and act in a new or different way. One of the first questions to ask yourself before starting your script is–Why now? What happens in your screenplay to provoke a fundamental shift or change in your character or in his or her situation?
Change
Change doesn't come easily and it never occurs without opposition. No change ever continues unchecked. Someone or something stands in the way. Obstacles always arise to prevent, derail, stymie or stall change. Why? Transformation is always upsetting. Emotions run high. The situation and characters are thrown into turmoil. Someone or something resists the change with all his or her might. Who or what stands in the way? Is your character resisting the change or is someone or something resisting the transformation your character is bringing about or is undergoing"
What specific action changes or transforms your character? What is lost? What is gained? Who opposes the change? What does your character want? What does your character need? What is the cost of either choice What does your character fear most? How much is your character willing to sacrifice? To what extreme is your character willing to go?
The answers to these questions get to the heart of who your character really is. They give depth and meaning to your writing. A good screenwriter thoroughly understands his or her characters' emotions, inner conflicts and the whole process of internal transformation. Great screenwriters dig deep to find this emotional truth within themselves.
The Character Map
A Character Map charts internal conflicts and emotional transformation. In writing your screenplay, each major character should be mapped. This process will help you get inside your character's emotions. But first you have to start with yourself.
You might ask: Why should I map myself? To best understand the insights to be gained in the Character Map, I suggest that writers map themselves as though they were a character in a movie or television series. This is the best way to test the process.
The mapping process starts with the personal and moves to the universal. Mapping yourself will help you look at the Emotional Toolbox techniques personally and assess their truth and validity for yourself. It will also help you examine the universal application of the process and discover how to apply it to all the characters in your screenplay. All great writing moves from the personal to the universal.
You are a complex, interesting, fully-formed three-dimensional human being. You constantly wrestle with a variety of strong emotions and struggle continually with a whole range of internal conflicts. These are the kinds of characters you should write about.
Write What You Know
Writers are always advised to write what they know. What writers (and all other human beings) know the most about is change. Living, by definition, is to change. Nothing in life is static. Change and transformation are all around you. Both impact you every day.
You live in an unsettling, upsetting and constantly changing world. Your world is full of uncertainty, evolving relationships, personal and professional ups and downs, conflicting responsibilities, opposing loyalties, diverse commitments and contradictory desires.
You know exactly how painful change and transformation can be. You have experienced extreme, dramatic and sometimes excruciating change. Your life has been full of unexpected reversals, complex dilemmas and difficult growth experiences– and so should the lives of the characters in your script. Their world should be challenging, unsettling and constantly in flux.(And there's no reason why all this turmoil and pain shouldn't be hilarious. Great comedians know– "If it don't hurt, it ain't funny.")
Creating Characters Out Of Chaos
So how do you create fictional film and television characters out of all of this chaos. How do you create a screenplay or teleplay filled with the kinds of emotions and changes you've experienced? It helps to have a process to turn your own raw material and personal emotion into fiction. That's where your Character Map is useful.
Mapping your own character will help you create fictional film and television characters that "feel real." By understanding how change and transformation works in your life, you will gain insight into how to use this powerful process to create complex, interesting fully-formed three-dimensional fictional human beings-characters. You will create characters who are emotionally true and who have a life and integrity all their own.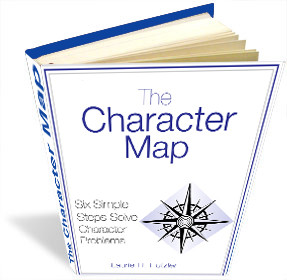 I believe the creative process always starts with your own emotional truth. The only thing that makes your script unique is your personal point of view. Human beings have been telling stories since we were able to speak. There are no new stories. The only thing new is you and the way you see and experience the world. Who are you? What do you believe? What insights do you have to share with the world? What is the truth as you see it? Put real emotional truth into your screenwriting and your script will stand out from the rest.
$29.95Add to cart