#ThinkpieceThursday – Coincidence Tanks Top of the Lake: China Girl
Thinkpiece Thursday
Despite strong performances all around, the sequel to Top of the Lake disappoints because of the ridiculous contrived coincidences powering its plot.
## SPOILER ALERT ##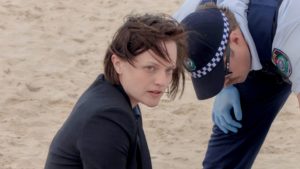 Teenaged Mary, (Alice Englert) is the long lost daughter given up for adoption by Robin (Elizabeth Moss) the cop investigating the "China Girl" murder.  Mary just happens to be sexually and romantically involved with the killer, nicknamed "Puss" (David Dencik).
The brothel Puss helps run, where "China Girl" worked, is also an illegal surrogate "farm".  It caters to Australians so desperate to have a baby they don't really check the girls' backgrounds.
The supervising cop on the investigation just happens to have used one of the brothel girls as a surrogate for the child his mistress wants to have.  He KNOWS his surrogate is a prostitute because he has frequented the place.
His mistress, Miranda (Gwendoline Christie) just happens to be Robin's partner on the police force investigating the China Girl murder.
This is too much coincidence to sustain credibility.
When is coincidence a good thing?  K.M. Weiland describes it beautifully:
"At some point in almost every story, there is going to be something coincidental that kicks off the plot. What is it that first brings the protagonist and antagonist into opposition? Often, it's a coincidence:
Roger Thornhill accidentally hailing the page boy who is looking for a government agent in Alfred Hitchcock's North by Northwest.
Harvey Cheyne falling into the ocean and being rescued by fisherman Manuel who just happened to be there in Rudyard Kipling's Captains Courageous.
Katniss's sister Prim just happening to be drawn as a tribute in her first eligible year in Suzanne Collins's Hunger Games.
D'Artagnan just happening to insult Athos, Porthos, and Aramis on his first day in town in Alexandre Dumas's The Three Musketeers.
Flik catching just the end of the circus bugs' Robin Hood act and believing they're really warriors in A Bug's Life.
All of these things just happen. Although there are some causal dominoes leading the protagonists up to a few of these examples, there's not enough cause in play here to let any of these moments avoid being coincidences.
And yet they still work. Why? Because they only make things harder–and more interesting–for the characters. You'll also note these major coincidences are pretty much the only major unexplained coincidences in their stories. It's not on Pixar's list, but we could add to their above rule:
Only one major coincidence per story: early in the story."
That's a rule to live by.  For another of my blog posts on coincidence click HERE
SaveSave
SaveSave