#MondayMusings – How Do You Eat an Elephant?
Monday Musings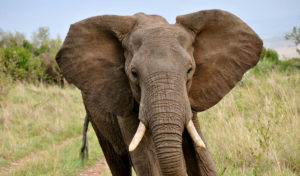 Any writing project is daunting.  Going from the first blank page to 100 screenplay pages or 300 novel pages is a huge challenge.  But the answer to "How do you eat an elephant?" is, one bite at a time.  The way to accomplish any goal is incremental progress.  Get started and keep going.
Robert Collier, one of the first self-help authors, said, "Success is the sum of small efforts, repeated day in and day out.
Be consistent. Be diligent.
When I was a student in the UCLA Master's in Screenwriting program we had 10 weeks to go from blank page to finished first draft. The way I discovered I could meet that deadline time after time was to write 5 pages a day.  Just 5 pages.  Everyday. I never had to pull all-nighters or handed in an unfinished draft.
Small incremental progress is key.  I believe so deeply in this approach I wrote an online course that helps writers finish a first draft writing just one hour a day. I started with the presumption that most people using the course had busy work lives, family lives, and social lives.  But everyone, no matter how busy can block out one hour.
The course is a step by step guide.  You have a specific assignment each day.  There is screenwriting information, video lesson, and all the material you need each day.
To learn more about The One Hour Screenwriter eCourse click HERE.