IN MEMORIAM
stickMy father-in-law, Irvin B Charne, died last Thursday at age 95.  He was generous, gracious, and a man who ALWAYS counted his blessings.  He struggled for many years with Alzheimers. He was a kind and gentle man, quick to smile, and overflowing with gratitude for even the smallest things. He will be missed by generations upon generations of people and remembered for defending those less fortunate in court and in life. He was loved, admired, and cherished by family, friends, and colleagues.
Irvin B Charne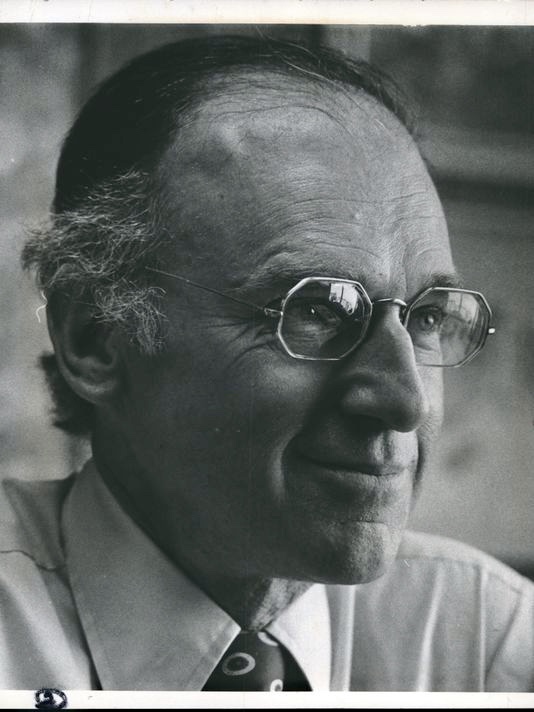 Irvin B. Charne was a quiet man of modest nature, with a love of music and a dedication to the law.
The son of a tailor turned corner grocer, he grew up in the three-room apartment behind his father's store and went on to carve out a distinguished career as an attorney.
Along the way he served his country, inspired his children and swung sweetly enough on the clarinet to play in college dance bands, including one called the Campus Cats.
Irvin B Charne died last week after a long illness. He was 95.
Perhaps best known for his work as one of the attorneys representing children in litigation that desegregated Milwaukee Public Schools in the 1970s, Charne was a widely respected lawyer who practiced in a variety of areas.
Among other cases, Charne won equal pay for a group of female brewery workers and handled the complicated liquidation of an insurance company.
The U.S. Supreme Court appointed him to represent a man challenging Wisconsin's sex crimes law, and following Charne's argument the court ordered a new hearing for the man.
In 1976, Federal Judge John Reynolds appointed Charne to serve as co-counsel with Lloyd Barbee in the longstanding case over segregation in Milwaukee schools.
A court-approved settlement calling for sweeping measures to desegregate the schools was reached in 1979. A few years later, Charne was representing Milwaukee Public Schools in a legal challenge to suburban districts — a case that led to a settlement providing for the transfer of students between the city and suburbs.
A 1978 Milwaukee Journal article said Charne enjoyed a reputation as "a thorough and shrewd legal strategist" and as "one of Milwaukee's finest trial lawyers."
His colleagues felt likewise. In 1999, Charne received the Professionalism Award from the American Inns of Court for the Seventh Circuit, an honor given annually "to a lawyer or judge whose life and practice display sterling character and unquestioned integrity, coupled with ongoing dedication to the highest standards of the legal profession and the rule of law."
Charne was born in Milwaukee in 1922. By the time he was 7, his parents were running a small grocery store in Riverwest, at the corner of N. Weil and E. Wright streets.
Charne graduated from East Division (Riverside) High School and had begun college when his reserve unit was called to active duty and he was sent to Attu, in Alaska's Aleutian Islands.
"I rose to private first class," Charne later told a Milwaukee Journal reporter.
It was a characteristically humble remark.
"He was very quiet," said his son James. "He was a very modest person."
After the war ended, Charne's unit was stationed in California, and Charne, a fan of Benny Goodman, Duke Ellington and Count Basie, was assigned to a band that included many professional musicians.
"Playing with them," he later wrote, "was my best military experience."
After his discharge, Charne returned to college. He graduated from the University of Wisconsin-Madison and the University of Wisconsin Law School and, in 1951, entered private practice.
James Charne said his father stressed that the most important goal of a professional such as an attorney should be providing service, not making money.
"And if you do a good job and you provide service, then the rest takes care of itself," James said, quoting his father. "He felt very strongly about that."
James Charne said his parents, rather than trying to impose their own viewpoint, always supported him and his brother, David, in their life choices.
Those choices led David, who died in 2005, to an unusual dual career as a lawyer and an entertainer who worked as a magician, clown, juggler, comedian, mime, actor and director.
James, meanwhile, became a music executive and, ultimately, an attorney specializing in intellectual property, technology and entertainment. He said his parents' willingness to let him follow his own interests was "maybe the most wonderful gift that both of them gave me."
Surviving Irvin B Charne is his wife of 71 years, Merla; his son James; and a sister, Anita Laufer. Services were held Monday.
Here is what his son, my husband had to say:
My father, Irvin B Charne was laid to rest today in Milwaukee. As we sat in the front row of the sanctuary at the synagogue he helped build, staring at the simple unfinished wooden casket (Jews do not have open casket funerals), my mother rightly commented that my dad was not the remains resting in the casket laid before us, but rather the large crowd of friends, family, and colleagues who had been inspired to honor his memory and his work by attending this farewell –despite terrible Wisconsin winter weather.
It had originally been my decision not to speak at the funeral — but the rabbi encouraged me to reconsider. Both he and his father knew my father well, for decades. He could speak about my father's contributions to the community and to the congregation — but, he suggested, I could add personal reflections to make the proceeding richer.
So .. last night, my fingers went tapping away.
This was my eulogy delivered today:
"I'm here to talk about my father. But it is impossible to talk about him without including my mother. They were a team. United. Together. For 71 years.
"When I came upon the scene, my father was a young lawyer busy building a law practice. But he was always ready to step forward when help was needed. Like when he carved out time to become pack master of my Lake Bluff School cub scout troop. Or became involved in the North Shore YMCA because in 7th grade I was a member with many of my school friends of Junior Hi-Y lunch club.
"That willingness to get involved was a trait we saw throughout his life and career.
"My father was a strong leader — but his style was to lead quietly and by example. No shouting. No orders. No negativity. No demands. He believed strength came from one's values and beliefs …. And then quietly acting on them. In doing so, he set an example that I have tried to emulate in my own personal and professional life.
"My father and my mother, together, always encouraged me and my brother to find and then follow our passions; "to take the leap of faith" as my wonderful wife, Laurie, would say. Even if those passions were not their passions. They never gave orders. Never told us what we must do.
"My father and my mother both understood you can not order love, trust, and respect; it must be inspired.
"The love and support they gave extended beyond our immediate household to all of our extended family. My parents were always in the background, but always there with unconditional encouragement, and support, with advice only when solicited.
"My father and my mother encouraged my brother and me to follow our own paths, pursue our own interests, discover our own passions. In the end, we both did so, taking widely divergent paths, but finding happiness and satisfaction in our choices.
"My father lives on in the hearts of my mother, his children, family, friends, and colleagues. Living his beliefs and quietly acting on them permitted him to leave his mark on the world.
"Serving as wonderful role models permitted my father and my mother to leave their mark on my brother and on me.
"My life is infinitely richer because of that.
"I could not have received a greater gift."
SaveSave
SaveSave
SaveSave
SaveSave
SaveSave
SaveSave
SaveSave
SaveSave