#TypesTuesday – Nathan For You and Power of Ambition
Types Tuesday
By Guest Contributor Oscar Harding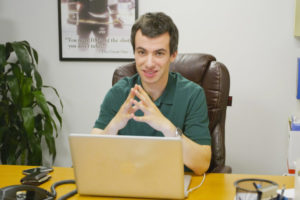 Chances are, most European readers will have no idea what Nathan For You is. In fact, many Americans might not know it despite being on the Comedy Central channel. It is one of US TV's best-kept secrets and also one of the funniest shows in years.
It has just returned for its fourth and potentially final season, so now seems an excellent time to examine Nathan Fielder, perhaps the most quintessential Power of Ambition character currently on Television.
A very brief summary of the show- similar to reality shows like Kitchen Nightmares, self-professed small business guru Nathan Fielder provides… innovative solutions to struggling entrepreneurs in California. The show is produced in a similar fashion to its televisual peers, but the businesses and people are all real and unaware the show is a joke.
Canadian comedian Fielder plays the whole thing straight, forever deadpan as he suggests everything from a coffee shop turning into a legal parody of Starbucks, to a realtor claiming to specialise in haunted houses. Here is an example of his work- it really has to be seen to be believed:
The premise alone makes a very funny show, but it is the character of Nathan- a classic Power of Ambition type- that makes it something special. There is a subtle narrative arc weaved into the show, of Nathan desperately seeking friendship and romance where he can find it.
Sometimes the show completely abandons its premise as we see Nathan trying to overcome his shyness towards women, or searching for friends online. The line between reality and fiction is regularly blurred to an unrecognizable level.
Power of ambition characters seek approval from others. They also want to appear untouchable, and at the top of their game. Nathan introduces each episode by claiming "he graduated from one of Canada's top business schools with really good grades".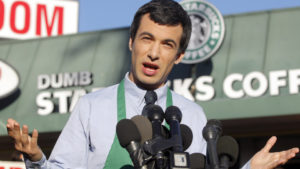 Nathan takes everything to the absolute extreme in order to impress the business owners he helps, to the point where sometimes he's forgotten what he was doing was to help a business, and he carries on his ludicrous plans without them. I've never seen a character in television more desperate for love and appreciation except perhaps David Brent.
The show is an excellent satire, but crucially it serves as a vehicle for its main character, portrayed by an actor who never makes fun of the business owners he strives to gain respect from, instead making himself the butt of the joke. Every time, his drive to be liked propels him to go too far. He will break the law and create elaborate hoaxes to "help" small businesses. At the end of it all, he usually asks the business owners if they'd like to hang out with him now filming has wrapped. Their answer is always no.
If people want an example of a Power of Ambition character, I will always refer them to Nathan Fielder- to me, he is the epitome of Power of Ambition.
For more information on Power of Ambition characters and other examples click HERE.
SaveSave
SaveSave