#TypesTuesday – Nine Portrayals of Santa
Types Tuesday
By Guest Contributor Oscar Harding
Although it has recently been alleged by Turkish Archaeologists that the grave of St. Nicholas has been found, the basis for Santa Claus, or "Father Christmas", isn't important. What is important is what the fictional figure means to families across the world. Santa can be different things to different people, and the vast range of screen portrays of jolly old saint nick prove this. Coming up to the holidays, it seems an appropriate time to examine an icon who has been all nine "power of" character types across film and TV.
Power of Ambition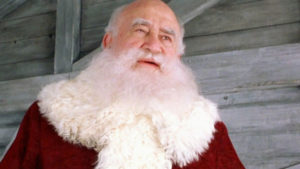 Power of Ambition characters seek approval and feel the need to impress those around them, feeling they will not be accepted if they don't have a particular status. This is their tragedy and their biggest weakness. They strive for other's love to enhance their own reputation. 
Ed Asner's wonderful turn as Santa in the 2003 classic Elf shows a Santa struggling to keep up with the times, and the changing tastes of increasingly demanding children, and a populace whose belief in him is dwindliing. It is a refreshing take on Santa, who faces irrelevance and has little time for the antics of Buddy the Elf (Will Ferrell), who eventually does save Christmas, and Santa as well. Although Santa seems uneasy with the use of rocket engines on his sleigh, he pursues what he believes will give him an advantage. He is obsessed with making sure that others buy his flawless facade. This particular Santa means well but would do well not to fall victim to his own insecurity.
Power of Conscience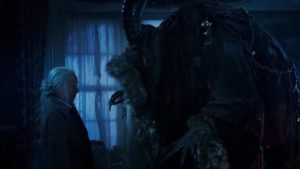 Power of Conscience characters fight for what is right. They are often morally outraged and do what they believe is right, and to correct any wrongs they perceive. They are propelled by their convictions and believe it their duty to stand up for what is fair and just.
Krampus (Luke Hakwer), the antagonist in the 2014 film of the same name, is the Anti-Santa, a European folklore character who traditionally punished children who misbehaved – the exact antithesis of "The Jolly Old Elf".
In the film, the havoc he wrecks is not out of a sense of enjoyment but is his means to an end.  He intends to mete out deserved punishment on those who desecrate the name of Santa Claus. He is determined to deliver justice to the ungrateful. There is no maliciousness in his actions (although, in this film, the same cannot be said for his execution of those actions), but he does serve his purpose. It can be argued he isn't a villain, but he definitely is the antagonist. This is a unique way to look at the iconic figure of Santa- a warped mirror version who rewards for those who behave is to survive the ordeal while those that are naughty around them suffer.
Power of Excitement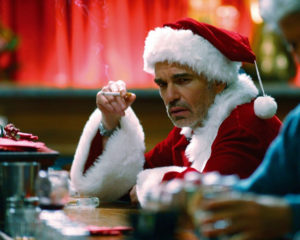 Power of Excitement characters are carefree and reckless. They are hedonists with a scant regard for anyone but themselves, constantly in pursuit of a good time. They push the envelope, forever trying their luck, fuelled by a devil-may-care attitude.
Willie T. Soke (Billy Bob Thornton) in Bad Santa is a good example of the dark side of this character type. He is seductive, wicked, and inconsiderate of others.  He uses them for his own gain. Willie is a con man and a thief, and although he is full of self-loathing he is definitely a power of excitement character.
He and his sidekick post as Santa and an Elf each Christmas at shopping malls in order to rob the malls during closing hours. This is the closest you will find to a portrayal of Santa, in some form, to a type of Santa who is not caring or altruistic. Willie represents the dark side of the power of excitement- he's certainly not on the real Santa's "nice" list!
Power of Idealism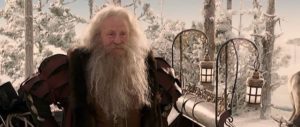 Power of Idealism characters strive for the best and try to elevate everything around them. They are never satisfied, always looking for ways to make things more unique or special. They are continually frustrated as nothing is ever good enough for them, and that no one can ever live up to their impossibly high standards. Examples of this character are T.E. Lawrence (Peter O'Toole) in Lawrence of Arabia or Remy in Ratatouille.
Père Noël  (James Cosmo) resides in Narnia, appearing on screen in the adaptation of C.S. Lewis' second instalment The Lion, The Witch and the Wardrobe. He has been kept from his duties for years by the White Witch, and as her grip loosens on Narnia, he is able to return to his life's mission. He is a frustrated character, and one who embraces the legend behind Father Christmas. Although this portrayal is different to the Santa in our world, he is aware of his importance as someone who delivers hope and joy. Perhaps more humble than most Power of Idealism characters, he still embraces his destiny, as any good example of this Character Type would.
Power of Imagination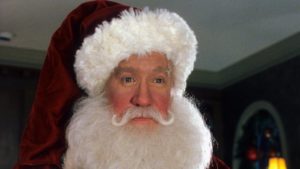 Power of Imagination characters are reluctant souls who have greatest thrust upon them whether they like it or not. Characters like both Frodo and Bilbo Baggins exemplify this. But despite their unwillingness to carry out a mission or undertake a quest, they are the heart and soul that holds any kind of endeavour together. They have to see things through to the end because no one else is brace enough, or driven enough, to do so
In The Santa Clause, Scott Calvin (Tim Allen) accidentally kills the real Santa Claus on Christmas Eve and, without realising, takes his place. Thus begins a forced physical transformation into Santa, and Scott must face the consequences of his actions. Scott goes on a journey and as he learns love, selflessness and kindness, he becomes the ultimate representative for those values. Scott is a reluctant man who has to give in to the Santa Clause- something supernatural and unavoidable- and embrace the larger circumstances that have granted him incredible responsibility.
Power of Love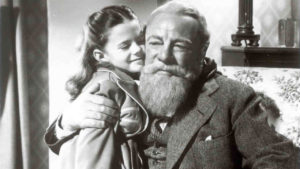 Power of Love characters can, for better or worse, be all-consuming in there desire to love others, and devote themselves to people. They can be possessive in their adoration. They believe that others owe them for the dedication they have given others. But these traits do come from a good place- a drive to nurture and to care.
In Miracle on 34th Street, the 1947 original, Kris Kringle (Edmund Gwenn) is institutionalised as insane for claiming to be the real Santa Claus.  A young lawyer (John Payne) takes up his defence in court. The lawyer is won over by Kris because of his kind and giving nature. Kris gets what he wants in a passive way, presenting kindness and caring like only the real Santa could.
He represents the type of Santa most people imagine, a grandfatherly sort who is only concerned with the happiness of children. Kris Kringle brings people together. His neutrality and sole focus on making others reconcile is what allows him to survive being fired from Macy's, a psychological evaluation, and a court case. This portrayal, and this Character Type, is the truest representation of Santa Claus.
Power of Reason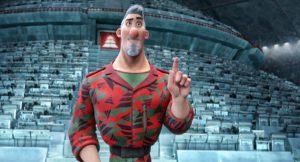 Power of Reason characters see the world as a series of puzzles that can be logically solved. Their reality is based on rules that should not be broken, and they cannot truly comprehend spontaneity and flexibility. Things must run precisely, and there must always be order in their life. Any deviation from this is unacceptable.
There's no better examples of a Power of Reason Santa than Steve (voiced by Hugh Laurie), the eldest son of the current Father Christmas, Malcolm, (voiced by Jim Broadbent) in Arthur Christmas. He ignores the old-fashioned unruliness of his grandfather, and keep his own dad on the sidelines. Malcolm is merely a figurehead in a seamless transition where Steve has taken his place.  Steve replaces an inefficient sleigh drawn by reindeer with the latest high-tech delivery systems to ensure maximum efficiency.
He is more of a strategist than a caring figure, more concerned with operations than with the actual individual joy of children, and is strategic in a militaristic manner. This is a particularly aggressive example of a Power of Reason character, but no other portrayal can match Steve. He is ruthless in ensuring that everything goes to plan, no matter the cost.
Power of Truth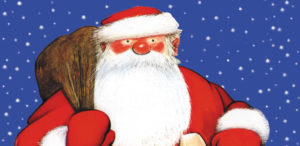 Power of Truth characters are constantly on edge, forever vigilant for some sort of conspiracy that threatens them. There is always a mystery to solve, or an injustice for them to identify. They are distrusting, insecure and never truly at ease with themselves or the world.
The animated adaptation of Raymond Briggs' Father Christmas shows a curmudgeon (voiced by Mel Smith) who just wants to live the quiet life. There are no elves and no Mrs. Claus, only the reindeer in his garage and his greedy cat and dog. When Father Christmas tries to find solace on holiday in various locations, every time his efforts at relaxation are thwarted by members of the public recognizing him, forcing him to move on. This is a Santa in hiding, afraid of recognition, and it's as close to a paranoid interpretation of the character as you are likely to get.
Power of Will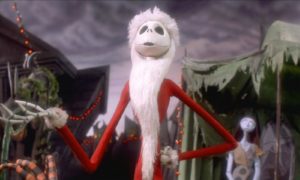 Power of Will characters are conquerors and dominators. Their will must be imposed, no matter who stands in their way. They take control of everything, be it situations, people or territory. They have only one goal, and that is to own everything and everyone. This kind of character is usually a gangster or an authoritarian leader of some sort.
This Power of Will "Santa" is bit of a cheat, as Jack Skellington (voiced by Chris Sarandon) from The Nightmare Before Christmas only attempts to be Santa Claus. He understands the joy that this figure brings to children, and falls in love with Christmas.  He is weary from his countless years as the "Pumpkin King" of Halloween Town.
Despite his good intentions, borne out of frustration, he enables the enslavement of and torture of the real "Sandy Claws".  Jack takes his place, with the help of a town whose people he has convinced to carry out his bidding. Jack is merely doing what he has always done- take control for the sake of pageantry. He becomes Santa Claus by force, delivering horrific presents to children because he believes it is what they will want, with no consideration for others, so long as he is fulfilled in his actions.
For more examples of all the character types, you can purchase my in-depth e-books at the ETB shop, or you can read more articles on all the "Power Of…" types including James Bond, Doctor Who, Batman and Sherlock Holmes, every Tuesday. There are also 9 pinterest boards full of character examples online. Check them out and let us know at ETBHelp@gmail.com if you have any other suggestions.
SaveSave
SaveSave
SaveSave
SaveSave
SaveSave