#MondayMusings – Packing for Business Travel
Monday Musings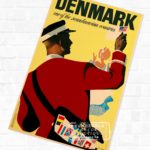 I am on my way to Copenhagen as you read this.  Looking forward to a wonderful time meeting new and old friends. The conference has a big treat in store, a boat ride to a fantastic dinner location.  Then back to Bristol for just enough time to unpack and do laundry. Then I am immediately on to Amsterdam! Watch my ETBScreenwriting  INSTAGRAM for pictures,
This is typical of my schedule, I'm a frequent traveler, traveling back and forth between the UK and (mostly) continental Europe and Scandinavia.  I'm not quite in the same league as the main character in "Up in the Air." In that film, George Clooney plays a frequent flier who is on the road 270 days a year. As Clooney's character reports, the difference between having to check luggage and fitting everything into a carry-on is a week's worth of time spent waiting in line.
So that's tip #1:  Travel Light.  Limit yourself to one cabin sized roll on bag and a compact computer bag. Being the first through customs, never waiting for luggage, and no one EVER losing your baggage is a tremendous advantage in my book. I can easily get two weeks of travel out of one carry-on.
Tip #2: Start with a Dark Base Color.  Personally, I've been transitioning from black to navy.  I think navy blue is more interesting than the more expected black. I am lucky to work in the entertainment business where the dress is casual.  I usually pack two pairs of navy business casual trousers and a dark pair of slim jeans. I also bring three nice tops, two sweaters, and a light leather coat.  A couple of soft tee-shirts (cotton and cashmere), and a night gown completes my basic wardrobe. I also usually throw in a packable light down vest.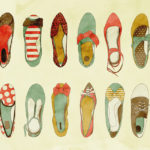 Tip #3. Limit Shoes. I usually wear ankle boots or trainers on the plane and pack two pairs of nice flats. I've picked out trainers that can double as casual shoes– I have good sturdy suede ones.
Tip #4: Add Color with Accessories. I pack a couple of colorful silk scarves to brighten things up.  And I always wear a big soft cozy scarf on the plane.  It's can be cold on board.
Tip #5:  Wear a Denim Dress on Board.  This is one of the best tips I've ever gotten from a fellow female traveler.  A loose denim dress and silky leggings are like wearing pajamas.  I bring a belt to cinch the dress pre and post flight. The denim dress can be dressed up for dinner at the location, while still being casual.
Tip #6. Find Tube and Pencil Versions of Makeup. They fit more easily in the required zip lock bags. Lipstick can double as a blusher.  I snag travel sized toothpaste at the dentist and 2 oz contact solution at the optician. I also have a travel size of my favorite Hermes perfume.  There's no need to bring more liquid than that.  AND there are drug stores all over the world. Buy what you need on location and leave it behind when you go.
Tip #7: Save Your Back. A roll-on with a hook that holds your computer case counterbalances the load so that you can cruise through the airport quickly. If your bag doesn't have such an add-on bag strap you can easily buy one.
Tip #8: Test ALL Your Batteries. Make sure your rechargeables are fully charged (Kindle, iPad, FitBit, Computer). Know the capacity of your batteries. You might be surprised by how long a trip you can make without lugging along a bag full of chargers.
Tip #9: Always Bring Backups. "A high-resolution scan of your driver's license, passport, visas, and credit cards on the SD card of your smartphone or on your computer HD can be a life saver if anything is lost or stolen.  I also recommend a paper print out as well.
Tip #10: Put Medications in the Safe. I once had medication pilfered at a high-end resort. I didn't notice until I ran out, way ahead of schedule. In some countries, there's a big black market in prescription medicine.
All that is left is: Relax, bring a snack (food on board is iffy), listen to a downloaded audible book, and enjoy the ride!
SaveSave