#TypesTuesday – Cersei Lannister and Power of Love
Types Tuesday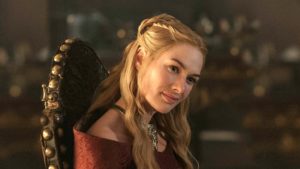 I thought this would a good time to review a past reader comment on Cersei Lannister.  The reader writes:
Reader: For me, the quote used in the previous article illustrating Cersei's Power is evidence for her being Will instead of Love: "The more people you love, the weaker you are. You'll do things for them that you know you shouldn't do. You'll act the fool to make them happy, to keep them safe. Love no one but your children, in that a mother has no choice."
Reader: I don't think that a Power of Love character would ever think of love as a weakness – love is what gives you power instead of threatening it; doing things for others is the essence of who you are and the basis for your power. But it makes total sense for a Power of Will character to see love as a weakness, as something to avoid if possible.
My answer:  A Power of Will character might see love as a weakness because love does make you vulnerable.  But a Power of Will character would never humiliate him or herself to make another happy or to keep them safe.  Think Tony Soprano. He is never laughed at nor does he play the fool for anyone.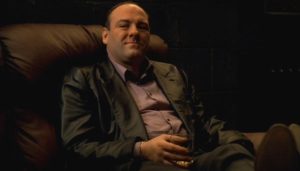 My answer: Tony kills one of the people he loves most in the world, his nephew Christopher Molisanti.  During a car accident, Christopher is mumbling because he is high. Tony believes he can't take a chance on Christopher blabbing private business so Tony kills him.
Their own survival is paramount to a Power of Will character. Cersei sees the survival of her children as paramount.  She says she is willing to abase herself for their happiness or safety.  That, in fact, does make her weak personally.
My answer: The final proof is Cersei's getting pregnant just as she ascends the throne.  Given the Maesters and potions at her command it seems reasonable she could avoid pregnancy.  But she is triumphant in announcing it to Jamie.  The most joyous part of it all– She has secured the throne for their child.
If she was a female Power of Will character, she would want the throne for herself! AND She would not do anything that puts her physical condition into question.  She is a warrior queen, leading her army into "The Great War." Pregnancy, in that patriarchal society, would put her leadership in question. There is a reason Queen Elizabeth I never married and never had children– She wanted power for herself and didn't want to be subjected to control by anyone.
The Power of Love character is an iron fist in a velvet glove.  But that fist is wielded for others, not themselves.
SaveSave
SaveSave