Vladimir Putin and the Power of Will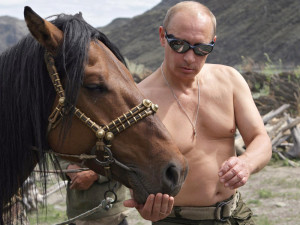 Valdimir Putin,  the President of Russia, has been much in the news lately, specifically regarding the Russian invasion/annexation of the Crimea.  The New Republic magazine has an interesting analysis of Putin's personality and goals.  He is described in the magazine and in other news reports as a classic Power of Will character.
Putin, sees the world according to his own logic, and the logic goes like this: it is better to be feared than loved, it is better to be overly strong than to risk appearing weak, and Russia was, is, and will be an empire with an eternal appetite for expansion. And it will gather whatever spurious reasons it needs to insulate itself territorially from what it still perceives to be a large and growing NATO threat.  New Republic Magazine

From the LA Times this week:  Across a resurgent Russia, Stalin lives again, at least in the minds and hearts of Russian nationalists who see Putin as heir to the former dictator's model of iron-fisted rule. Recent tributes celebrate Stalin's military command acumen and geopolitical prowess. His ruthless repression of enemies, real and imagined, has been brushed aside by today's Kremlin leader as the cost to be paid for defeating the Nazis.

As Putin has sought to recover territory lost in the 1991 Soviet breakup, his Stalinesque claim to a right to a "sphere of influence" has allowed him to legitimize the seizure of Crimea from Ukraine and declare an obligation to defend Russians and Russian speakers beyond his nation's borders.
Power of Will characters believe that expanding their power base, extending their territory, protecting and defending what is rightfully theirs (according to them) and swiftly avenging any wrong (or perceived wrong) is how one gets along, gets ahead and stays ahead in the world.
These characters take what they want, fight for every inch of turf, refuse to show any weakness themselves and pounce decisively on the weakness of others. They have a kill or be killed framework for everything. They believe absolutely in the Law of the Jungle and divide the world into aggressors and victims, hunters and prey, and the strong and the weak. They believe it is better to be feared than to be loved. They never want to be seen as "soft" or vulnerable. They show no mercy and they expect none.
Power of Will characters fear showing any sign of weakness or vulnerability. They fear that remorse, compassion, empathy, compromise or forgiveness leaves them soft and open to possible attack by others. These characters believe there is no mercy in the jungle that is the world. There is only survival of the fittest. The biggest, toughest, meanest dog wins. Might makes right. Speak decisively and back it up with big guns.
For more on the Power of Will character visit the ETB Screenwriting Shop.