#TypesTuesday – Batman v Sherlock: Comparing Reason and Truth
Types Tuesday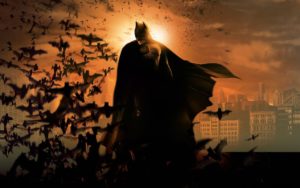 Batman and Sherlock Holmes are both detectives of sorts but they approach their investigation into crime very differently. Batman is a Power of Truth character.  Holmes is a Power of Reason character. This makes all the difference in how their stories are told.
Christopher Nolan's Batman trilogy (my favorite Batman movies) is remarkably consistent in its emotional and psychological characterizations. In the Emotional Toolbox method, rather than looking at genre, the essential emotional force driving the movie is analyzed. Nolan's trilogy is a series of complex multi-layered Power of Truth stories.
These kinds of stories are driven by secrets, lies, conspiracies, or concealment. In the opening of The Dark Knight Rises, a huge lie is rotting at the heart of Gotham City.
Bruce Wayne/Batman languishes in disgrace, broken and hiding in his cavernous mansion. Harvey Dent, who had become the criminally insane Two Face in the previous film, The Dark Knight, has been put on a pedestal and is revered as a hero. His crimes are concealed and even blamed on Batman.
The Dark Knight Rises and all Power of Truth stories chronicle the most profound and personal betrayals. These stories also ask: when does betrayal look like loyalty and when does loyalty look like betrayal? These stories' twists, turns, treachery, and reversals, changes everything the character believes is true. All the character holds dear is destroyed.  It is a story of emotional devastation.
One of the major betrayals at the heart of the film is Alfred Pennyworth's omission in telling Bruce Wayne what happened just before Bruce's great love, Rachel Dawes, died. Alfred argues against Bruce re-emerging as Batman, revealing the truth about Rachel.
Bruce argues that Rachel died believing that the two of them would be together; that was his life beyond the cape. He can't just move on because she couldn't move on– she died.
Alfred reluctantly tells Wayne the truth, "What if she had? What if, before she died, she wrote a letter saying she chose Harvey Dent over you? And what if, to spare your pain, I burnt that letter?"
Bruce accuses Alfred of just using Rachel to try to stop him. Alfred is adamant. "I am using the truth, Master Wayne. Maybe it's time we all stop trying to outsmart the truth and let it have its day. I'm sorry."
In Power of Truth stories, like Nolan's Batman trilogy, things are never what they seem.  The tangled undergrowth of human duplicity and emotional treachery catches and pulls at every character in the film.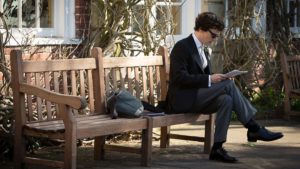 Power of Reason stories are much more straight forward.  The investigation is a puzzle to be solved logically, emotion doesn't enter into it. Of course, there is deception in these stories, but the lies are exposed by the careful collection of empirical evidence and objective deduction.
Sherlock says:  "Impossible suicides? Four of them? There's no point sitting at home when there's finally something fun going on!
Mrs. Hudson: "Look at you, all happy. It's not decent."
Sherlock: "Who cares about decent? The game, Mrs. Hudson, is on!"
Power of Reason characters examine the situation, consult other expert opinions or past experiences, and put their minds to the issue in a thorough and objective fashion.  It's all a puzzle to be solved or a game to win. The human cost of murder or suicide doesn't factor into the equation.
These characters cannot abide deviation from their systematic and orderly approach to the world. They tend to discount or ignore emotional or spiritual (or supernatural) elements in a situation or a problem. If they can't see it, measure it, categorize it or quantify it, they don't believe in it.
Power of Reason characters don't believe in getting personally involved or emotionally entangled in any issue. They always try to maintain a sense of cool detachment and personal objectivity. They are good listeners but deflect or avoid any intimate questions about themselves and are extremely private about disclosing anything they consider to be personal. They are excellent problem-solvers and experts on matters technical, scientific or arcane.
Moving from a cold clinical analysis toward a more human evaluation (which takes into consideration emotional connection, caring, and a real valuing of others' feelings) is their journey toward greatness.
SaveSave
SaveSave